Should You Use a Reverse Mortgage to Save for Retirement?
Perhaps you've heard about a reverse mortgage but aren't sure what it is. Or maybe you know what it is but aren't sure what retirement has to do with it. In a nutshell, a reverse mortgage is a type of loan for people over the age of 62 that allows you to convert your home equity into cash, receiving a payment every month with the amount varying on the amount you borrow, says Money. You can opt to take a lump sum payment or an equity LOC (line of credit), with all proceeds being free from taxes.
Many investors wonder: should they take out a reverse mortgage from a bank and sock away that money in an account with a good rate of return? It stands to reason that if your home is paid off and you repay that loan in 10 to 20 years with the invested cash, you should come out on top, right? Well, maybe in a perfect world. In reality, you'd have to take a gamble with your equity and take on a big risk in order to realize the kind of return you're dreaming about.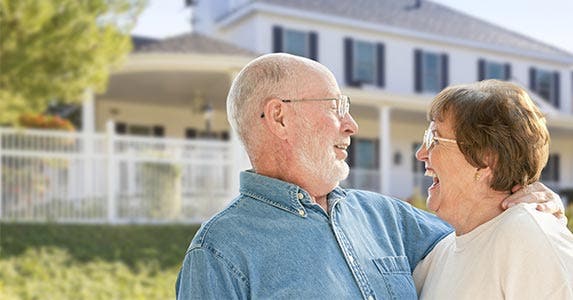 First off, reverse mortgages aren't as affordable to pay off as other types of loans, typically getting rates at about five percent as opposed to four percent with a standard 30-year fixed. You'll find that the closing costs are higher as well. Now, when it comes to taxes, you'll owe taxes on any investment that features capital gains or income from interest. To cover yourself on the taxes and interest, you'd have to look for a rate of return of between seven and eight percent. For those kinds of results, you will have to shoulder more risk. Are you willing to do that at your age?
Keep in mind reverse mortgages are getting harder and harder to obtain. That's because borrowers still have to pay their property taxes and homeowners insurance, which poses a problem for those who have limited cash flow. As a result, lenders will be looking more closely at credit reports, assets, income and the borrower's history of paying taxes and homeowners insurance, according to AARP.
Sometimes, though, there are reasons that make sense to use a reverse mortgage towards retirement. If you're seriously strapped for cash, you can get some pretty good income with a reverse mortgage or invest it for later. Or, you can pay off your conventional loan with a reverse mortgage so you don't have to face that bill every month. You could also use it to pay off credit card debt if you're drowning in it, pay off medical bills that are becoming overwhelming, or make an expensive yet necessary home repair or remodel. There are many things you can do with a reverse mortgage but always talk to your financial planner to see if this is a feasible choice for you.
An alternative to a reverse mortgage can be a conservative stock and bond portfolio. Just be careful because at an elderly age, your securities investments should match your objectives. Just make sure you have the number of a stock market lawyer like the Thomas Law Group in the event you are the victim of fraud or negligence.